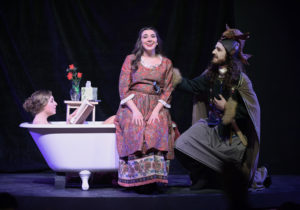 On March 17th 2017 Kent State University Opera and KSU Orchestra presented the world premiere of the new orchestral version of our 1991 opera Gisela in her Bathtub (libretto by Michael Cavanagh, music by Neil Weisensel). The students of the Kent State University School of Music did a fine job presenting this 16-minute epic mini-opera, after a challenging week of rehearsals which included a full day's closure of the campus due to a snow storm. Conductor Katherine Kilburn and Director Marla Berg did a fantastic job of staging and interpreting this new version of the popular work. Also included on the programme was Mark Blitzstein's The Harpies (1931) and George Bizet's Dr. Miracle (1856). It's interesting to note that Dr. Miracle and Gisela in her Bathtub  were the first operas created by their respective composers.
The strong cast for Gisela in her Bathtub featured Mackenzie Wells as Gisela, Brontë Lucci as Icelandic princess Helga, Michael Lada as Olaf the marauding Prince, and Mickey Erdos as Helga's father, Lawspeaker Snorre. Ms. Lucci is a vocal standout, with a clarion tone and deft characterizations of both the dramatic and comedic elements of the score and libretto. Mr. Lada was a suitably heroic Olaf, the Icelandic prince who is forced to confront Helga's father Snorre for the death of his own father. Mr. Erdos brought comic pathos to his role. The orchestra under Ms. Kilburn sounded rich and full, and balanced nicely with the lighter student voices. Overall a highly satisfying premiere of the new orchestral version of this piece. Kudos all!
Blitzstein's The Harpies and Bizet's Dr. Miracle both enjoyed superlative singing and dramatic interplay between the characters, and some laugh-out-loud moments. The smaller orchestrations of the Blitzstein piece (ably conducted by Alexander Popovici) provided a good contrast to the larger forces of the two other operas. Ms. Berg's highly satisfying direction served both pieces beautifully, while the orchestra under Ms. Kilburn and Mr. Popovici featured tight ensemble playing, effective dynamic contrasts and highly satisfying support for the singers.
There are two more performances of these three operas, Saturday March 18th at 7:30 p.m. and Sunday March 19th at 3 p.m. Tickets will be available one hour prior to the performance for walk up sales, however,patrons are encouraged  to purchase tickets in advance to avoid long lines. Tickets and more information are available by calling 330-672-ARTS (2787). You may purchase adult and senior tickets online by visiting www.kent.edu/music/buy-tickets.